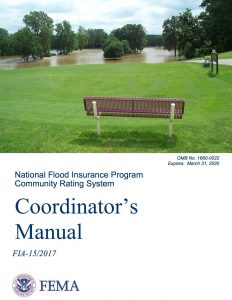 The objective of the Community Rating System (CRS) is to recognize communities that are doing more than meeting the minimum NFIP requirements to help their citizens prevent or reduce flood losses. The CRS also provides an incentive for communities to initiate new flood risk reduction activities. The CRS Coordinator's Manual is the guidebook for the CRS and sets the criteria for CRS credit and classification. It explains how the program operates, what is credited, and how credits are calculated. Although it is primarily a reference for CRS activities and credits, it can also help guide communities that want to design or improve their floodplain management programs.
When does a community need the 2013 CRS Coordinator's Manual?
If a community's last cycle verification was conducted using the 2013 CRS Coordinator's Manual as guidance that community needs to continue to use the annual recertification requirements listed in the 2013 Coordinator's Manual until its next cycle visit. All communities preparing for their next cycle verification visit need to use the 2017 Coordinator's Manual. ⬇ Download the 2013 Coordinator's Manual.

Helpful Resources
The following guides, checklists, and other materials, most of them referred to in the CRS Coordinator's Manual, are optional aids to help communities with their CRS programs.
2021 Class 8 Freeboard Prerequisite: Frequently Asked Questions (⬇Download .pdf) UPDATED!
Master List of Elements – 2017 Coordinator's Manual (⬇Download .pdf)
CRS Credits Crosswalk – 2007 to 2017 Coordinator's Manual (⬇Download .pdf)
Summary of Changes in 2017 Coordinator's Manual (⬇Download .pdf)
Impact Adjustment Maps—An overview and step-by-step guide to producing a map to help analyze and pinpoint the impact of floodplain management techniques. (⬇Download .pdf)
CRS Credit for Habitat Protection—An overview and guide to the ways communities can protect natural habitat while earning CRS credit. (⬇Download .pdf)
Small Communities in the CRS—A six-page fact sheet to help small communities gauge, step-by-step, their ability to participate in the CRS, along with explanation of program benefits. (⬇Download .pdf)